Name: Thanos
Sex (if any): Male
Height (you can approximate): 6'7"
Weight (you can approximate): 985 lbs
Description/Picture: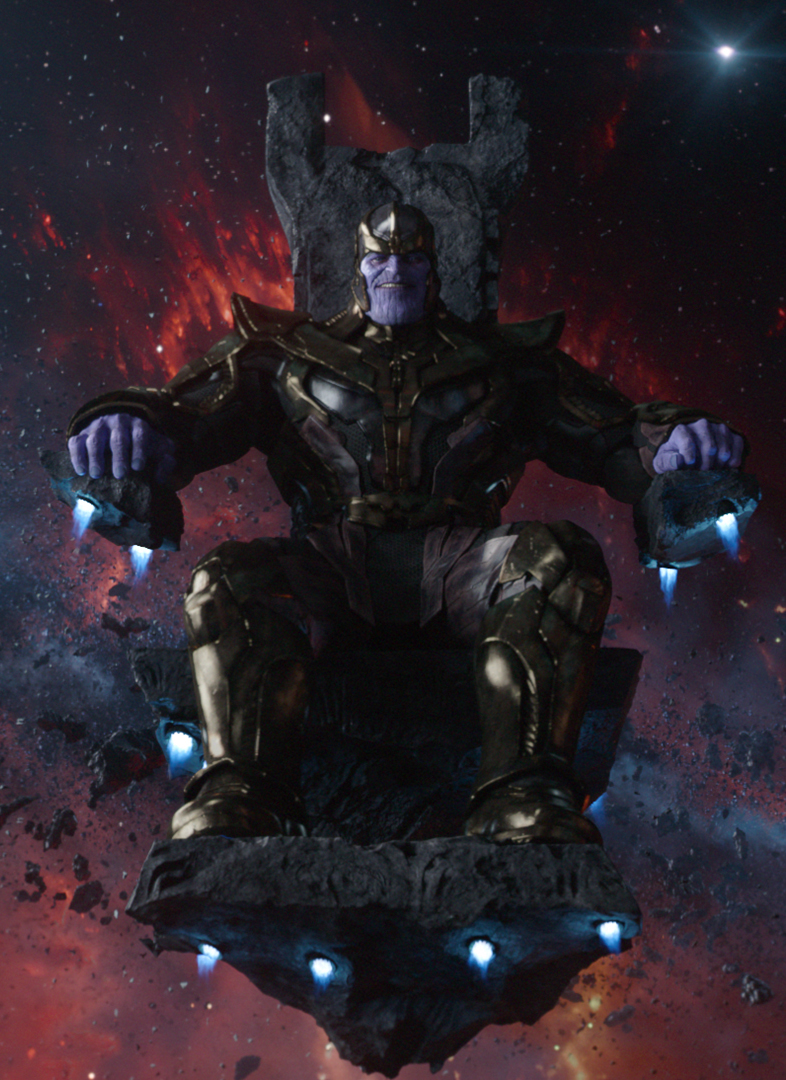 Universe: Marvel
Abilities: Thanos is a mutant member of the race of superhumans known as the Titanian Eternals. The character possesses abilities common to the Eternals, but amplified to a higher degree through a combination of his mutant Eternal heritage, bionic amplification, mysticism, and power bestowed by the abstract entity, Death. Demonstrating enormous superhuman strength, stamina, and durability, Thanos can absorb and project vast quantities of cosmic energy and is capable of telekinesis, telepathy and matter manipulation. Thanos is an accomplished hand-to-hand combatant, having been trained in the art of war on Titan.
Thanos is a genius in virtually all known fields of advanced science and has created technology far exceeding contemporary Earth science. He often employs a transportation chair capable of space flight, force field projection, teleportation, time travel and movement through alternate universes. Thanos is also a master strategist and uses several space vessels, at least 3 under the name of Sanctuary, as a base of operations.
Bio: Thanos became one of the most powerful and feared warlords ruling over a distinct region of space, having gained control over the deadly army of the Chitauri, eliminated the Zehoberei race and a Luphomoid family to raise two young women from both races, Gamora and Nebula, to be devoted and deadly assassins.
Thanos greatly desired the Infinity Stones, objects of immense power that held considerable dominance over the various forces that occupied the universe, and forged several alliances in order to locate them. He successfully located at least one of the stones; the Mind Stone, hiding it inside a Scepter that was capable of manipulating minds.
Through many years of searching, Thanos discovered a lead on the Orb's location, sending Nebula and Gamora to the Cloud Tombs of Praxius under the command of his ally, the Kree soldier Korath. Nebula fell victim to a trap during the mission, and Thanos, not one to tolerate failure, forbade Gamora from rescuing her. Nebula was forced to amputate her own arm in order to escape. The Orb was never recovered, but Thanos let the failure pass and resumed his search.
Thanos discovered that the Tesseract, the Space Stone, was on Earth, and allied himself with the exiled Loki, providing him a bladed Scepter with one of the Infinity Stones embedded inside, and the Chitauri, who would help him conquer the planet in exchange for the Tesseract. Once Loki had arrived on Earth, he succeeded in acquiring the Tesseract, but as he was preparing for his invasion, he was contacted by Thanos. Through his intermediary, The Other, Thanos threatened the Asgardian god of mischief, saying that if he failed in delivering the Tesseract, Thanos would force him to endure a new kind of suffering.
After Loki was defeated and both the scepter-laden Infinity Stone and the Tesseract transported to HYDRA and Asgard, respectively, The Other reported to his master that the Earth's inhabitants were not as weak as they were thought to be. He also declared that challenging the Earth's heroes would be to court Death. To this, Thanos simply smiled.
Some time later, Thanos brokered a deal with his old ally, Ronan of the Kree, promising to lend a fraction of his forces in a genocide against the Xandarians in exchange for aiding in the search for the Orb. Ronan discovered the true location of the Orb on the planet Morag and attempted to deliver it to Thanos, but an unexpected turn of events ensued and the stone fell into the possession of Ravager member, Peter Quill. Unwilling to be denied another stone, Thanos ordered Ronan to pursue Quill and recover the stone, sending Gamora to aid the Kree in his pursuit.
Gamora found Quill first, cornering him on Xandar where he was attempting to sell the Orb. She recovered it, but what Thanos did not realize is that Gamora had chosen to cut all ties with him and now planned on handing the Orb over to the infamous Collector, Taneleer Tivan, who also sought the stones. When Ronan relayed news of Gamora's betrayal to Thanos, the Kree berated the Mad Titan for not taking the situation seriously and even murdered The Other when he lectured Ronan on not showing Thanos respect. Undaunted by The Other's death and Ronan's complaints, Thanos turned Ronan away, instructing him to return to his task and correct Gamora's betrayal, which he was only slightly irked by. He instructed Nebula to take Gamora's place as Ronan's aide in the endeavor.
Ronan and Nebula both eventually stole the Orb from Gamora, Quill, and their allies, but when Thanos was contacted by Ronan, he was furious to discover that the Kree, having experienced the power of the Orb firsthand, intended on keeping the Infinity Stone for himself. Nebula, contemptuous towards Thanos after the horror he forced her to endure throughout her youth, used this opportunity to betray him and join up with Ronan permanently. Now believing himself superior to Thanos, Ronan promised to come after the Dark Lord once he had finished Xandar. Unphased, Thanos cut contact with the pair without even putting in another word.
Ronan would eventually perish at the hands of Gamora and her companions, who gave the stone to the Nova Corps, making another Infinity Stone lost to Thanos.
With Loki and Ronan both having failed him, and both of his daughters lost to him, Thanos had finally grown tired with the lack of progress in his crusade and decided to take matters into his own hands. He retrieved an Infinity Gauntlet and began to hunt for the Infinity Stones himself.
Thanos is power hungry, searching for the Infinity Stones with the apparent goal of controlling all of existence. He desired to use the Tesseract to look beyond the known worlds to find greater ones that it would unveil. He is sadistic and cruel, finding children that he can raise to be assassins and forcing them to watch as he murders their families. He is intimidating and frightening, with Ronan the Accuser showing visible signs of fear in his presence and Loki doing so at the mere mention of him, as well as being able to command the Chitauri army unchallenged. Thanos has an unforgiving nature; The Other warned Loki that he would know a new kind of pain if he did not give them the Tesseract, Thanos threatened to bathe the starways in Ronan's blood if he failed to deliver the Orb and forbade Gamora from rescuing Nebula when the latter fell into a trap whilst on a mission in the Cloud Tombs of Praxius. He has little to no regard for his followers, showing no empathy when Ronan killed The Other and referring to Gamora as his "favorite daughter" even with Nebula present. He inspires no love, as he is despised by his own "daughters" Gamora and Nebula. He is also manipulative and untrusting, sending Ronan to retrieve the Orb for him and not telling him that it contained an Infinity Stone. He keeps a low profile, lurking in the shadows and making others do his work for him. However, after both of his alliances backfired, he decided to hunt for the Infinity Stones himself.
Alignment: Neutral Evil
Link:
http://marvelcinematicuniverse.wikia.com/wiki/Thanos