@ Startravler999/davidcreator: Thanks for the compliments on the thread. Most of the 14 veterans you see mentioned in the OP know each other for a long time already and lots of them are personal friends of each other as well. It is Slarti's initiative to present ourselves as one group of hosts together to revive the Spore game. There is no access or membership needed, you can simply post here, please do
Little tip about logging on with the right Spore username: I have more screennames myself, to have the right one on the Sporum I have to add the username to my email addres that I use to log on. If I don't then I will automatically get the most recent username created. So for me it would be "myemailaddress.com:Ansje" or "myemailaddress.com:AnsjeDark" to give an example.
@ MjrGlory: okay now it was your turn to be the first to answer LOL
EDIT of November 23rd!
As our second post soon will be changed in a new challenge for the Xmas period, I copy and paste the introduction banner and the original "avatar contest" details here, as kind of archive so all comments on the first pages of this topic still are "logic".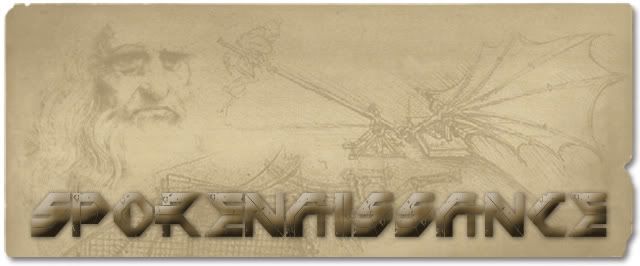 Archive copy Avatar2011 contest:
Create your avatar and add a funny description!
The challenge:
Create your avatar in any editor, add a funny description and post it on this Sporum topic.
The prize:
The best creation will be rewarded with a beautiful trophy created by
Vektrix
. Judgement will be based on creativity, originality and description.
Rules:
- creation must be new and must be your own, editing of a creation of yourself is permitted
- all editors and outfitters are allowed, but NO botparts please
- addDNA is allowed, but freedom is not
- this is a friendly contest, so no insulting of other players or their creations.
- entries must be posted before Saterday November 19th. 2011 at midnight EST
- entry limit: one creation only
- tag your entry with
"avatar2011"
(including the " " creations are found better then)
- do provide us a link to your creation if you post on the topic.
Tip for adding text in the description of your creation: it depends on the browser that you use. If you do not manage with FireFox or GoogleChrome (could be) then do try it with Windows Internet Explorer or another browser.
Entries will be added to this Sporecast:
http://www.spore.com/sporepedia#qry=usr-Ansje%7C2265476012%3Assc-500799621031
To inspire you we show you some of our own "Renaissance or historic" inspired avatars: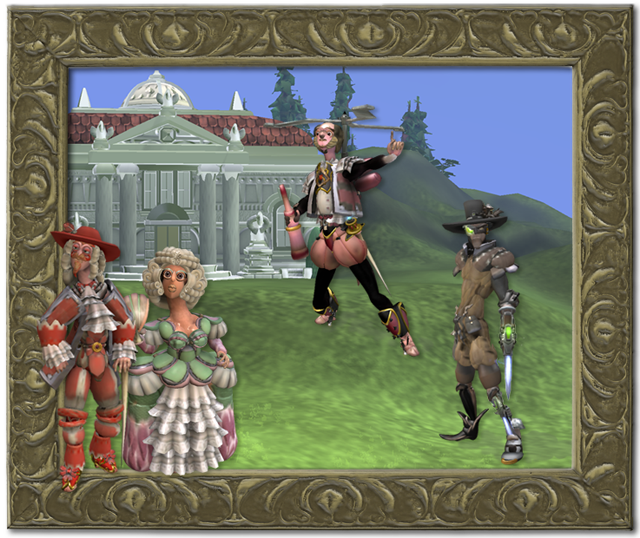 Building made by Andeavor
From left to right:

Count Arnaux d'Glorey IV of Wymar aka MjrGlory
Meet Count Arnaux d'Glorey IV of Wymar: landlord, city councilor, gentleman & part-time graffiti artist. Hobbies: pistol duels, midnight carriage street races, charming ladies and a good old game of laser tag. Dislikes: tying his own shoes, celery & karaoke.
Being the 4th Arnaux in line of a many generations old family the count inherited more money than could be written down in numbers in this short personal introduction. Be aware though that the count is certainly not an old rich snob spending his fortune only on fancy banquets with other important people or on a money sucking trophy wife, quite simply because he hates fancy banquets and is still single. Actually, Count 'd Glorey prefers his food in the fashionable way, namely fast. Hence the Glorey Burger fast-food chain that he owns.
So the count doesn't spend his money on food, theatrics or fancy jewellery, what does he spent it on? > on anything new. Everything must be new or renewed. The only old fashioned thing the count has are his clothes, but that's only because they just fit like a pair of 4k gold stitched silk gloves , and Renaissance Fashion Magazine predicted that hats will be THE retro hype of 2012 and sceptres …well lets be honest… are just plain awesome. The Count interests himself in modern architecture, extreme sports, the latest health trends, space travel and whatnot. Since being so focussed on everything new the count couldn't ignore the revival/renewal of spore and donated over a million speuros to Sporenaissance and gave approval to use his personal persona to promote the club. So backed by 13 great creators and an endless supply of fictional money this thread is now too big to fail.

Anna B'Aroque aka Ansje:
Anna B'Aroque is a lady known for her encouraging ideas about detailing and use of colour in clothing, buildings and decorations. She influenced architects and fashion designers in such a way that her name became a synonym for a style period: Baroque. Little is known about her private life, rumours say, that despite the abundant outftitting she is famous for, the lady actually is very modest and prefers to walk in shady forests, wearing comfortable clothes and sturdy shoes. Kids love to visit her in her little toy shop and to see her doing stitches on their damaged plush toys or to see her create new ones. Anna herself always is amazed, that the plush toys are broken again at each new visit and need new "medical treatment".
Having beautiful hair, she posed for an advertising portrait for the hare care products line of a friend of her, simply as a friend's gesture, without ever having used the products herself. Her hairdresser can confirm this, he thinks it is not an honest adverstisement this way, but he is just jealous: he never managed to convince her of any expensive, artificial treatment.

Alberto Galilei aka darwinken:
Alberto Galilei, the younger brother of Galileo was a true Renaissance man with varied interests; statesman, soldier, inventor, philosopher & entrepreneur. Nonetheless, he had a bit of an inferiority complex due to the successes of his older & better known brother. Thinking, he could best his brother in science he invented a flying machine based on an old Da Vinci sketch. To the basic design he added a source of power that he was convinced would make the dream of flight a reality. Into four bottles of the finest Murano glass, he added quicksilver, holy water, wine & phlogistine respectively. In the center of this array was a combustion chamber into which the 4 elements would flow when the stopper was pulled. Once in contact with each other an exothermic reaction would result that would drive a small turbine mated to the rotor. Or so he thought. However, the best laid plans of Alberto did go astray. When he pulled the plug the most significant consequence was a rather disturbing sound that embarrassed the inventor and those attending the unveiling. Not to be deterred, Alberto redefined the contraption as a fashion accessory. Indeed, his machine sold briskly until the next fashion trend displaced it the very next spring. Although he never gained the notoriety of his brother, he did amass a small fortune from selling a line of hair care products that he franchised out.

Sir Slarti Raleigh aka Slarti-42:
Sir Slarti Raleigh (1860 - ??), like his fabled ancestor, was a man of many talents; soldier, privateer and explorer. He first showed his mettle during the Anglo-Afghan war of 1878-80. When, as a young soldier, his bravery in battle saved his comrades in arms from certain annihilation. Unfortunately, he lost an eye and the lower part of his left leg in that fateful skirmish. Recuperating in a field hospital bellow the Kybur pass, he met the time traveling Professor Kairos, who had taken a wrong turn searching for Leonardo Da Vinci. Immediately taking a liking to Slarti, Kairos replaced Slarti's mangled leg with a steam-powered prosthesis and revealed to him his secret time travel method. After, successful test runs to Elizabethan England and the mid 20th century, Slarti offered his new found powers to Queen Victoria. Ever eager to expand her burgeoning empire, the Queen quickly offered Slarti a knightship and a lifelong pension in return for any intelligence he could gather from his forays to past & future times. Her only condition was total secrecy. Though this arraignment was mutually beneficial for over two decades, Slarti, eventually tired of his undercover time travels and settled down in the early 21st century. There he gained some notoriety for his computer rendered designs, depicting heroes real and imagined.
Happy creating!